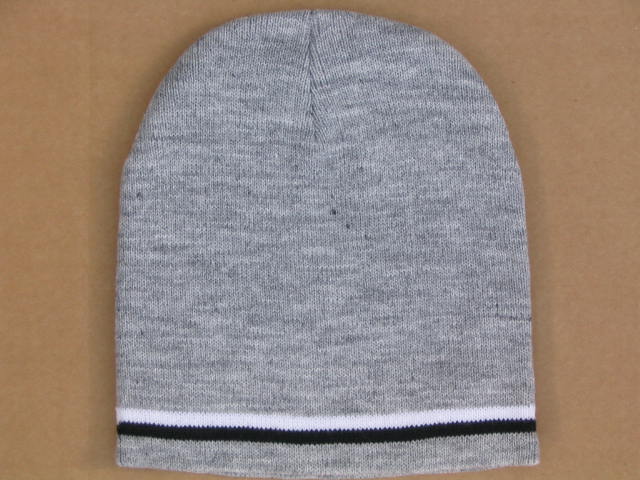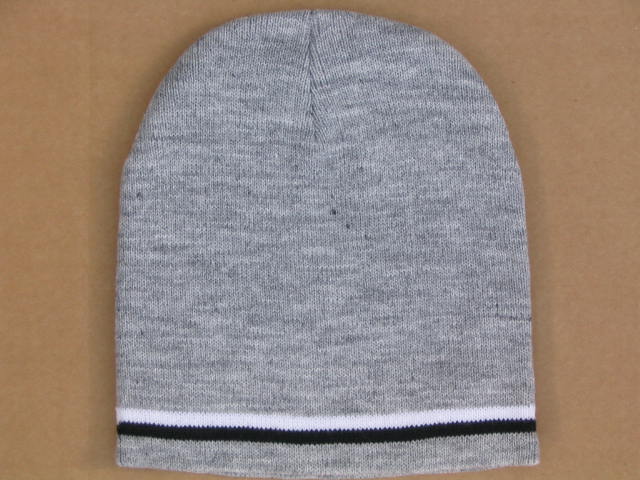 Cuffless style. The height is approximately 8.5". One size fits most. Made of wool-like acrylic. Great for embroidery.

Wholesale Quantity Discount:

1-9 dozen, $27.48 per dozen($2.29 per piece).

10-19 dozen, $26.28 per dozen($2.19 per piece).

20-29 dozen, $25.08 per dozen($2.09 per piece).

30+ dozen, $23.88 per dozen($1.99 per piece).



Save on our discounted wholesale prices on ash gray knit beanies with a classic white and black stripe from Tan's Club. Our knit ski caps are ideal for embroidery. Unlike stiff hard-to-store hats, a knit beanie can be rolled or folded up to fit into a pocket, and one size fits most. Plus, this 100% wool-like acrylic knit hat can be gently laundered.

The length is approximately 8.5 inches for a snug and comfortable fit. They're ideal for promotional or brand logo embroidery. See our big discounts on bulk-buy beanies in black with gold/cardinal red trim for extra money-saving orders that we package by the dozen.



Ash/White/Black Striped Cuffless Winter Beanie Hats- Ski Caps, DOZEN PRICED and PACKED.
23250403
Wholesale Quantity Discount:
Quantity
Price
per dozen
Price
per piece
1-9 dozen
$27.48
$2.29
10-19 dozen
$26.28
$2.19
20-29 dozen
$25.08
$2.09
30+ dozen
$23.88
$1.99
For extremely large orders, please email your inquiry to: sales@tansclub.com
Product Reviews
---